Opposing Trifectas Define
Current Housing Market Psychology
As the economy and housing market show more evidence of weaker than expected recovery, homeowners and homebuyers find themselves caught between two opposing trifectas.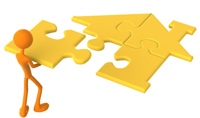 On the one side of the homebuying process we find this trifecta:
Wider variety of homes on the market – a mix of short sales, REOs and conventional homes for sale – covering most price points – detached and attached homes
California home prices have mostly stabilized with the bottom of the market having been hit in 2007 for most neighborhoods.
Mortgage rates continue to receive federal support to remain at historic lows.
The opposing trifecta is represented by continued high unemployment, foreclosures and tight credit.
Nationally, 1 million foreclosures a year are expected for the next 3 years. Recent developments with faulty paperwork resulted in a 9% drop in home repossession but foreclosure activity is returning to pre-scandal levels. The number of California homeowners underwater on the mortgage is now about 2.2 million.
The California Housing Finance Agency – CALFHA – is rolling out a new program – Keep Your Home California – which is being backed by $2 bijllion in federal grants. This program is supposed to help underwater homeowners stay in their homes. So far, similar federal programs have been dismal failures.
A recent survey by the California Association of REALTORS found homebuyers reporting that they feel it is getting more difficult obtain financing. Homebuyers continue to report that the two main factors in agent satisfaction are communication and negotiation skills.
What's a homebuyer to do?
Many homebuyers find themselves in limbo trying to time the perfect opportunity. Others are ready to buy, but find it difficult to get financing. Others are seeing their buying power erode as banks continue to tighten credit.
The current housing market continues to evolve and change. Prices may have settled, the bottom of the market may be appreciating, high priced homes may still be seeing some correction – BUT – interest rates and the certainty of future inflation make buying a home now a good decision.
Search for Foreclosures I-680 Corridor
Our FREE Hyper-Local Real Estate Market Reports for Danville and San Ramon, CA are the best source of housing market data you can get for Danville home sales.
Email Craig if you would like to know more about buying or selling a home or condo in San Ramon or Danville  California or call (925) 984-4910
We're sorry, but there's nothing to display here; MLS data service is not activated for this account.