Foreclosures (REOs) & Short Sales – Danville California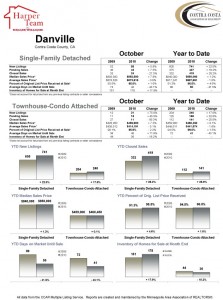 Currently, the MLS is showing 197 homes for sale in Danville, California. 19 of these homes for sale are listed as REOs (bank owned properties – foreclosures). This means that approximately 10% of the homes for sale in Danville, CA are foreclosures.
44 of the homes for sale in Danville are listed as potential short sales – roughly 22%. According to these figures, foreclosures and short sales (distressed properties) make up 32% of today's housing market in Danville.
The local market statistics from the MLS (October data), shown to the right, show that active listings and sales are up over last year. As we enter the holiday season, we can expect the number of homes for sale in Danville, CA to drop as part of the normal yearly sales cycle.
According to the California Association of REALTORS, the rate of foreclosures statewide is stabilizing. It will take several more years to work our way through the current market trend, but the housing market is digesting the foreclosure situation – though more slowly than most would like.
The information below from Foreclosure Radar, seems to back up what CAR says.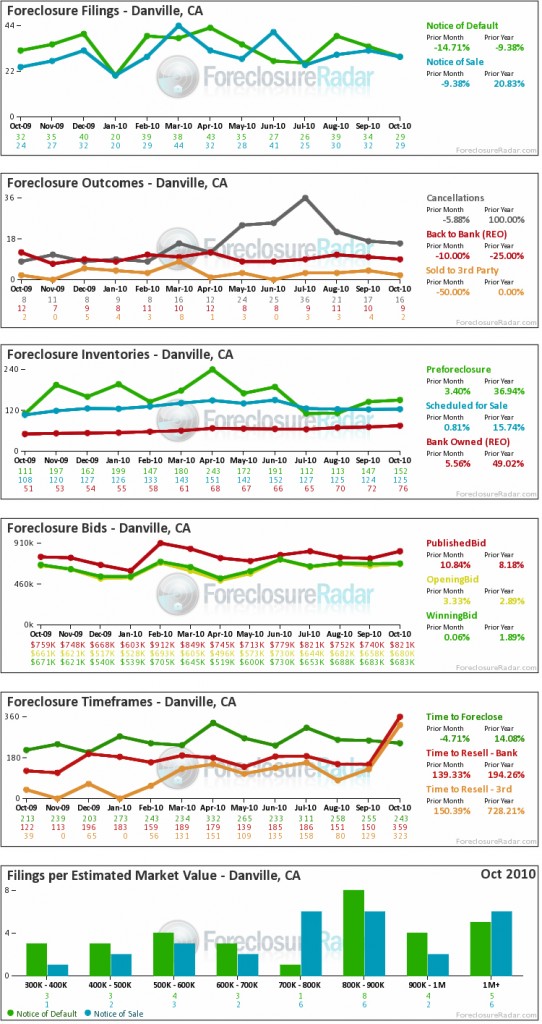 (Click here to request full size printable images)
With foreclosures and short sales accounting for almost half of the homes for sale in San Ramon, California, it behooves the homebuyer or homeseller to work with a professional REALTOR that is experienced with short sales and foreclosures. The Harper Team has the experience to help you with purchase or sale of your home, whether it is a short sale situation, a foreclosure or a conventional sale.
Search for Foreclosures I-680 Corridor
Our FREE Hyper-Local Real Estate Market Reports for Danville, CA are the best source of housing market data you can get for Danville home sales.
Email Craig if you would like to know more about buying or selling a home or condo in San Ramon California or call (925) 984-4910
We're sorry, but there's nothing to display here; MLS data service is not activated for this account.