Greater Greenbook Neighborhood – Danville Station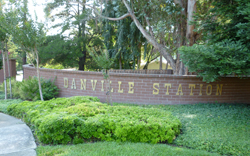 Danville Station is a beautiful, established, family oriented community in the Greenbrook area in Danville. It is ideally located within walking distance of the quaint, historical downtown Danville and has amazing views of Mount Diablo and Las Trampas Hills. The association spreads over 100 acres and is comprised of 318 single family homes. The neighborhood is characterized by mature landscaping including greenbelts, parks, creeks and the Iron Horse Trail, a multi use paved trail that extends several miles north and south of Danville, and is ideal for walking, running and biking. Using the trail it is a short ride to downtown Danville; ideal for your Sunday morning breakfast, getting a cup of coffee or shopping for your fresh fruits and vegetables at the weekly farmer's market.
Living in Danville Station, John Baldwin Elementary and Charlotte Wood Middle School are an easy walk or bike ride for most of the children through the greenbelts and parks. Top rated schools in a top rated neighborhood; no wonder we see an increasing demand from South Bay families who are looking for safe neighborhoods and top schools in the Bay Area to raise their children.
Greenbrook is a popular area for people that are relocating or for existing residents that are interested in moving up but wanting to stay in the same neighborhood; the last couple of months we have had several clients that sold their home and bought in the same neighborhood. Another interesting factor, that shows that this is a great neighborhood, is the fact that many Realtors live in the area, and I can guarantee you that Realtors see a lot of homes and neighborhoods. The fact that they choose to live in the Greenbrook neighborhood is a good sign.
Let us know if you are interested in selling or buying in Greenbrook; we are ready to assist you with all your Real Estate needs.
Contact Tracey for more information – 925-984-1890
Our FREE In-Depth Real Estate Market Reports updated weekly, break data down by zip code and price point. These are the best "real time"sources of data you can get for your local market.