Are Banks Talking Out of Both Sides of their Mouths?
California Foreclosures Continue to Increase Sales & Hassles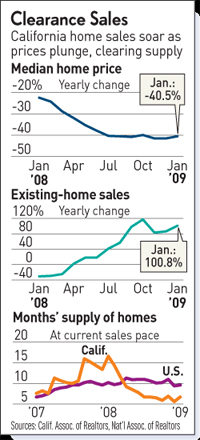 Foreclosures in the housing market continued to grow – 54 percent of the Bay Area homes that sold In January. Foreclosures have helped drive the surge in inland housing sales. New home builders are finding it very difficult to compete with resale prices. Sales of single-family detached houses hit record levels last month in Pittsburg, Antioch and and Oakley. These areas have attracted bargain hunters with their pricing values and abundant foreclosures.
Negative equity continues to rise for California homeowners. The average difference between current market value and outstanding loan amount exceeded $200,000 for properties sold at foreclosure auction in February. This represents a 189 percent increase in negative equity when compared to properties foreclosed on a year earlier. Notices of Default have increased 21.3 percent from January. Properties sold at foreclosure auction (trustee sales), rose 11.9 percent from January to 17,131.
Foreclosures area accounting for 51.9% of sales In Alameda country and 64.4% of sales in Contra Costa County. Six of every 10 houses in tax foreclosure property listings are bank-owned homes – a great opportunity for California homebuyers.
Existing-home sales in California doubled in January from a year ago. Sales nationwide fell 8.6% from a year ago. The time it would take to sell the inventory of California homes at the current sales rate dived to 6.7 months from 16.6 months a year ago. A 40% plunge in the median home price from a year ago has increased buyer activity and interest inspite of continued concern over the U.S. economy.

Are Banks Breaking the Law?
Using Southern California Title & Escrow Companies
Some banks are telling us and the Congress, that they are doing all they can to help. But, if you talk to the people actually involved in the process of trying to buy a foreclosed property, you will probably hear a different story.Some Northern California homebuyers are complaining against the practice of banks requiring them to open escrow in Southern California before they would sell houses included in tax foreclosure property listings. A scenario we encountered ourselves recently and one we are hearing about from other Realtors. Using title companies and escrow companies located in Southern California can double the cost of fees passed on to the buyer.Banks are trying to force homebuyers to pay these fees if they want to buy foreclosed properties. The California Housing and Urban Development has started investigating whether banks requiring potential homebuyers to open escrow in Southern California are violating the Real Estate Settlement Procedures Act (RESPA). The law prohibits any seller of properties to require buyers to acquire title insurance policies from a particular company.

Banks Selling Notes Out from Under Buyers
We are hearing more and more reports of buyers "in contract" with banks to purchase real estate owned properties only to have the bank sell the note in the middle of the escrow process. How is it possible for a bank to enter into a binding contract to sell a home to someone and then in the middle of the transaction, sell the note to someone else – effectively killing the deal? If you or I signed a valid contract to sell a car or a business to someone and then turned around and sold it to someone else in the middle of the process – we'd be sued.I imagine this is another point of action soon to be addressed by consumer groups – like the "produce the note" action many homeowners are starting to employ.

Understand the Credit Crisis in 10 Minutes
The Crisis of Credit Visualized from Jonathan Jarvis on Vimeo.