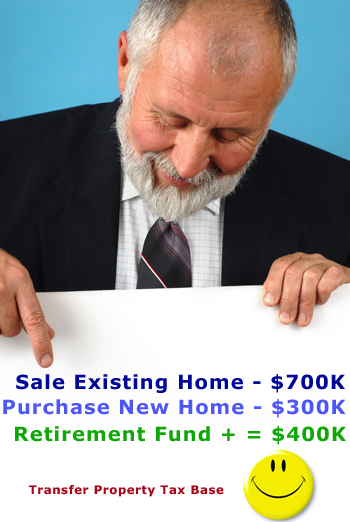 I can't tell you how many times over the last couple of years I have talked to home owners in the East Bay that feel trapped in their home of 20 to 30 years.
These homeowners are getting ready to retire and the mortgage is low or paid in full. But, these California boomers felt trapped by high California real estate prices and their low property tax base. What I kept hearing was – We can't afford to move.
Well – NO MORE – the situation has totally reversed! Working-class boomers can't afford to not move in this market. Now is the time to sell that home of 20 years in San Ramon, Dublin or Walnut Creek and look to Brentwood or some other hard hit community in Contra Costa County.
Property values in some California communities have fallen 50% and one Contra Costa neighborhood has seen property values drop back to 1998 levels.
Imagine selling your 1500 square foot home in San Ramon for $700K and buying a 2200 square foot home in Brentwood for $300K. Transfer your property tax base and that is a lot of left over cash for retirement living.
East Bay boomers looking to retire in the next five years MUST explore this option. This is not going to last. You are looking at a perfect scenario to stay in the East Bay area, buy a retirement dream home, keep your low tax base and walk away with a boatload of cash for retirement.
Even if you are going to wait several years to retire, prices are so low in the east county, you can lease your retirement home out for a few years until you are ready for it. Rents are still rising in the East Bay.
Knowledge is Power. Contact our team's relocation expert – Ginny Mees at 925–699–3328 to explore how you can leverage today's housing market to your advantage.