Plesanton TriValley Realtors® Marketing Association
I attended the TriValley Marketing Association meeting yesterday (Jan 11) at Tommy T's in Pleasanton, CA. This was the first meeting of the year and was well attended. It was also the first time we've met at Tommy T's.
It was an energetic and enthusiastic crowd with many listing presented (see some of them below) and the "High Priestess of Poop" presenting the coveted Pink Flamingo to Pat Griffin for continued excellence in the field of "Home Mobility."
This month's room sponsor is the Pleasanton Weekly – many thanks to them.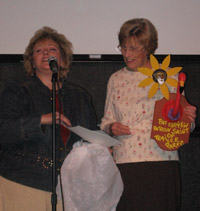 New MLS Listings Presented at TriValley Marketing Association:
There were 22 properties listed on the tour sheet and we gathered flyers for the following properties. The Harper Team can help you with these or any other homes, condos or townhouses for sale in Alamo, Danville, San Ramon, Dublin, Pleasanton or Livermore, California.
In addition, we have an established network of professional Realtors we work with throughout the Bay Area and The U.S.
Here are some of the featured properties for sale:
5610 Belleza, Pleasanton, CA. Central location -1 bed condo w/garage. end unit w/lots of light.
3307 Touriga Drive, Pleasanton, CA.4 bed 2.5 baths Lots of updates
7409 Stonedale Drive, Pleasanton, CA 3 bed 2.5 bath Townhouse in the Gables
676 Concord Place, Pleasanton, CA

2 bed 1.5 bath Condo – end unit
439 Cabonia Court, Pleasanton, CA. 4 bed 3 bath home in Ruby Hill
4608 Inyo Court, Pleasanton, CA 3 bed 2 bath over $100K in upgrades
3537 Gulfstream Street, Pleasanton, CA 4 bed 3 baths
2756 Hartley Gate Court, Pleasanton 3 bed 2 bath single story home
7558 May Way, San Ramon, CA 5 bed 2.5 bath Updated kitchen
2377 Avalon Way, San Ramon, CA. 5 bed 5 bath in Windemere
6162 Bay Hill Court, Dublin, CA

5 bed 5.5 bath overlooks 9th hole of Dublin Ranch Golf Club
6410 Dijon Way, Dublin – Torrey Pines location 2 bed 2 bath condo
10708 Ian Lane, Dublin, CA

2 bed 2 baths Townhome w/garage
3934 Tamworth Court, Dublin, CA. 3 bed / 2.5 baths 2 car garage
Some of these are expired listings that are returning to the market. There is a fair amount of controversy in the real estate industry regarding the practice of re-listing which can give the consumer a false impression of how long a property has been on the market (DOM – days on market). Ask your real estate agent to check the listing history to verify DOM to strengthen your negotiating position.
Remember, as a buyer, it costs you nothing to employee the services of a professional Realtor®