Danville California Home Sales Prediction 2013
The local real estate market in Danville CA is going see increased home values in 2013 while the number of homes for sale and sold continue to remain below normal. High-end homes ($2 Million+) will continue to experience downward price pressure while home priced in the middle of the market $800K to $1.5 million will feel the most upward pressure on pricing due to multiple bid competition.
2012 Danville Home Sales
Notice the continuous drop in inventory of homes for sale in Danville CA from May through December – very different from 2011. REO (foreclosure) activity in Danville continues to drop while short sale activity remains steady.
2011 Danville Home Sales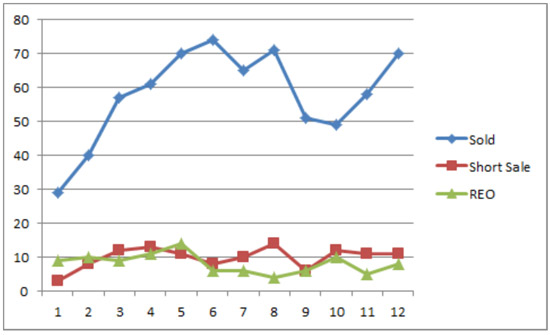 Comparing 2011 vs. 2012 for homes sold in Danville
| | | |
| --- | --- | --- |
|   | 2011 | 2012 |
| High List Price | $3,250,000.00 | $3,850,000.00 |
| Low List Price | $313,405.00 | $407,250.00 |
| High Sold Price | $2,900,000.00 | $3,450,000.00 |
| Low Sold Price | $267,000.00 | $407,250.00 |
| Average List Price | $895,609.00 | $932,604.00 |
| Average Sold Price | $868,306.00 | $918,972.00 |
| Median List Price | $809,000.00 | $849,000.00 |
| Media Sold Price | $805,500.00 | $836,500.00 |
| Average Days on Market | 39 | 42 |
| Percentage of List Price Received | 0.96 | 0.99 |
Homesellers are receiving more of their asking price as competition for fewer homes for sale heats up in Danville. The average number of days on market increased – influenced by the length of time it takes for short sales and reos.
2013 Home Sales Activity Projection for Danville CA
As the inventory of homes for sale in Danville continues to remain low and the demand for homes rises due to job growth in the Bay Area and a national economy that continues to struggle toward recovery, we expect home sales to decline slightly while home prices will climb – maybe 5% to 6%. This is the typical bounce for a real estate market that has hit bottom. 
One factor that will have a big influence on home values and appreciation this year will be the appraisal process. The appraisal process continues to be controlled by the banks and home appraisers who saw their incomes slashed when the banks took over – continue to simply crunch numbers for the banks instead of looking at any of the subjective elements that affect a homes value – curb appeal, upgrades, amenities, etc. the banks, the appraisers and the media will continue to lag 3 to 6 months behind the momentum and demand created by homesellers upping the price due to the short supply of houses for sale.
Best bet for homebuyers in 2013 is to buy early in the year before any significant increase in sold price percentage – now at 99% but expected to hit 105% by midsummer. Homebuyers be prepared for an increase in the number of offers being submitted on every home for sale in Danville in 2013 – instead of 2 to 3, think 10 or more.
Our new luxury home listing in Blackhawk is receiving multiple offers after it's first day on the market – counter offers are flying back and forth and like every other house coming on the market in Blackhawk and Danville that is market priced – they don't last long, before they're gone!
Email Craig if you would like to know more about buying or selling a home in Danville CA (925) 984-4910
We're sorry, but there's nothing to display here; MLS data service is not activated for this account.