Considering a Short Sale in Crow Canyon Country Club?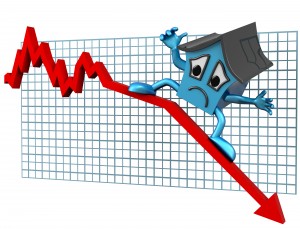 Short Sales & Foreclosure Stats for Crow Canyon country Club in Danville CA, Similar trends are noted in other areas of Danville CA,(request specific data for your neighborhood).
Just last month we noted that the number of foreclosures in Crow Canyon Country Club had tripled over the previous month. Today, we'll look at foreclosure and short sale figures in Crow Canyon Country Club – we'll be following up in a day or so on how short sales and foreclosures impact normal home sales.
Despite the name, Short Sales are not always a short process! Nor is it always an easy or smooth process, even in Danville CA where we are weathering the storm better than many communities. A short sale can be a frustrating experience for both the seller and the buyer. One of the mitigating dynamics in regards to the frustration factor is the number of lenders involved with the property.
Short Sales Potential Positives

Eliminates negative equity burden
May qualify for a new mortgage sooner than with a foreclosure or bankruptcy on their credit file
Repair finances by reducing housing payments
Short Sales Potential Negatives

A tarnished credit history and score
Diminished financing options on real estate for a minimum of two years
Lenders may pursue the so-called deficiency balance after the sale (** An experienced short sale agent can usually get this waived and in certain government sponsored programs like HAFA they can't pursue a deficiency)
The approval process can be time-consuming and frustrating
Part of the educational process should be consulting your accountant and attorney. While many Realtors have great experience and knowledge of the short sale process, few are licensed to give financial or legal advice on the implications of a short sale.
Income Tax Consequences:
California state income tax on forgiven debt resulting from a short sale, foreclosure, or loan modification will no longer be imposed on homeowners in California. Senate Bill 401 makes California's tax treatment of mortgage debt relief income the same as federal law. Be advised, however, that only the debt stemming from the loan secured by a "qualified principal residence," will be exempt from both federal and state income tax consequences. While the federal exemption amount is up to $2 million, the California exemption is up to $800,000 and forgiven debt up to $500,000.
Basic Qualifications for a Short Sale:
The Home's Market Value Has Dropped
The Mortgage is in or Near Default Status
The Seller Has Fallen on Hard Times
The Seller Has Limited Assets
Current MLS Data for Crow Canyon Country Club:
0 Active Potential Short Sale Listings
3 Active REOs (foreclosures)
3 Pending Potential Short Sales
1 Pending REO
There have been no completed sales of short sale or foreclosure properties or foreclosure properties since 1/1/2012 in Crow Canyon Country Club:.
Sold Properties in the period from 2/12/2011 to present:
31 Homes Sold
4 Short Sales
1 REOs
Short sales and foreclosures accounted for about 13% of the homes sold since 2/12/2011 in this Danville CA neighborhood.
The 4 short sales in Crow Canyon Country Club sold on an average at 91% of the listed short sale price, but the lowest return was 76%. Days on Market ranged from 8 to 46, but that is not the amount of time it took to close escrow. The home that was on the market for 8 days before going into contract to 41 additional days to close escrow. The home that was on the market for 46 days, took 87 days to close escrow.
Any homeowner wrestling with walking away from their mortgage is encouraged to read this article.
Craig is a Certified Short Sale Specialist. We have handled many short sales in the last 5 years – condos, townhomes, detached homes – in all price ranges. Interview the Harper Team for a potential short sale on your Crow Canyon Country Club home.

Home Buyers – You can get more specific details on homes in your price range by emailing Craig and requesting a Real Estate Pricing Specific Trend Report – be sure to specify a zip code and price range.
Danville Home Sellers – You can request a Real Estate Pricing Specific Trend Report for your home. Email Craig with your neighborhood and pricing info.
We're sorry, but there's nothing to display here; MLS data service is not activated for this account.