Home Values Slowly Rising in 94526
It's good news for homeowners in Danville CA – home prices are rising, but don't run to the bank to pull money out yet. We've pulled the data for home sales in Danville zip code 94526 and also looked specifically at the numbers for homes in the price range of our new listing on Logan Lane.
In the last 5 days, 129 real estate agents and 121 clients have viewed our MLS listing for this luxury home in Danville CA. Looking at MLS data for 18 homes priced above $1 million that sold in the last 60 days:
Days on Market ranged from 0 to 14
$1.2 Million was the highest sold price
1 home sold for 96% of asking price
3 homes sold for 100% of asking price
1 home sold for 106% of asking price
1 home sold for 126% of asking price
There are 51 $million+ homes currently for sale in Danville 94526. Four of these are potential short sales and 1 is an REO (foreclosure).
18-Month MLS Trends for Danville CA 94526
In the last 18 months there were 737 total properties listed that were not withdrawn or cancelled.
63 are active
94 properties are pending
580 properties were sold
average sales price was $754,330
median sales price was $723,000
average DOM (Days on Market) for active listings is 32 – pending is 35, – sold is 40
We have divided the properties into 3 price sets; low, medium and high to give you a better sense of how different listings fared for days on market and list-to-sale price ratios. The price range of properties sample is between $295,000 listing price to $4,200,000 listing price, and between $149,000 sold price and $3,850,000 sold price.
Comparable properties in this sample at the low end of the price spectrum sold on average in 28 DOM, in the medium range in 29 DOM, and at the higher end of the price range in 41 DOM.
(click images to enlarge)

18-Month Trend Charts for Home Sales Activity
Keep in mind that the numbers for June are not yet complete.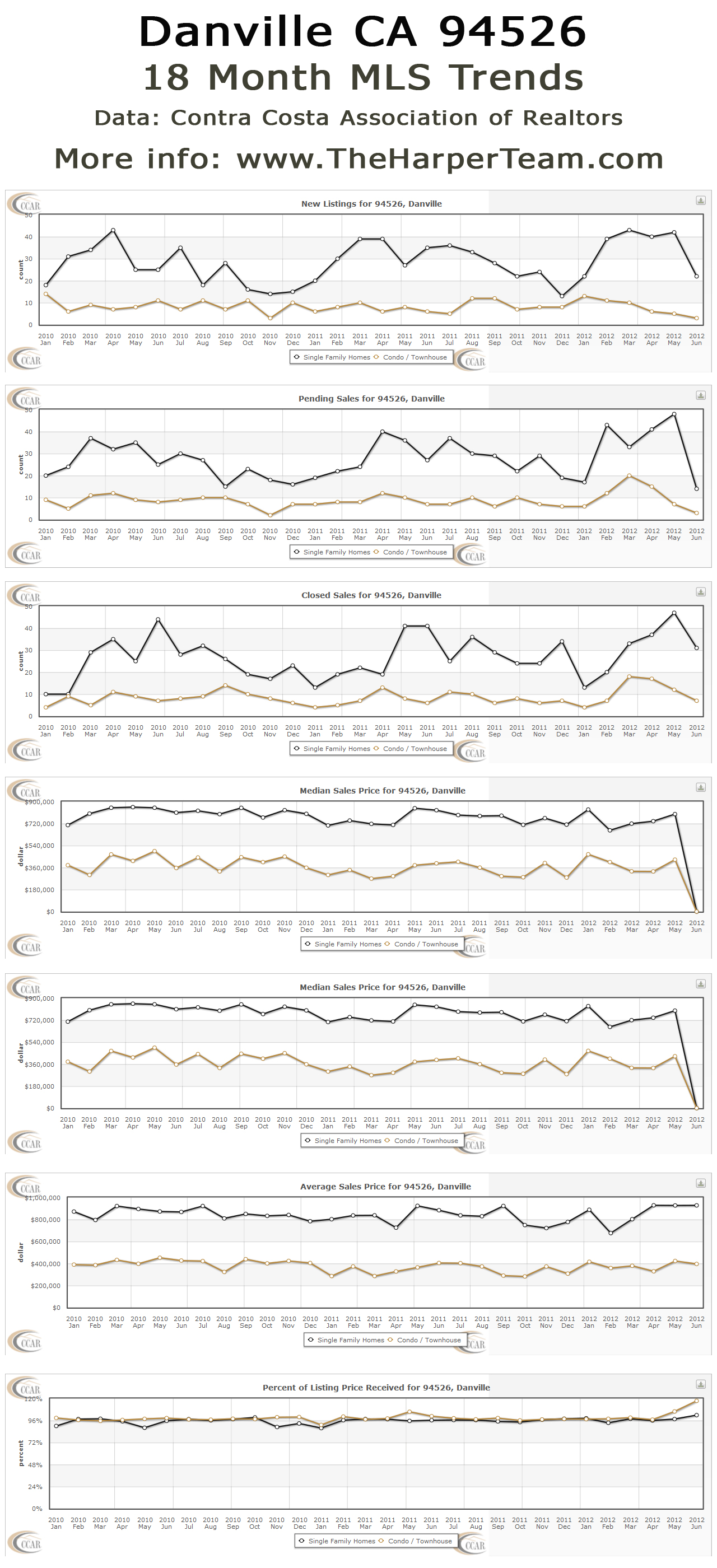 Email Craig if you would like to know more about buying or selling a home or condo in Danville, CA (925) 984-4910
Contact The Harper Team (925) 984-4910 to request more info on the following homes for sale in Danville CA
We're sorry, but there's nothing to display here; MLS data service is not activated for this account.