Still Rock'N Between Real Estate Deals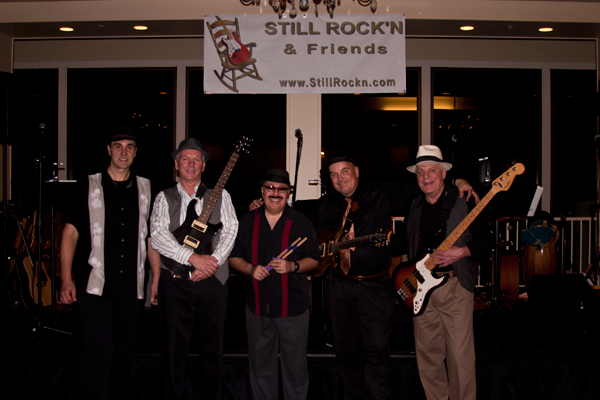 Local San Ramon Realtor, Craig Harper, and friends entertained over 300 guests last Friday at Crow Canyon Country Club's monthly Carvery Dinner event. Craig's band – Still Rock'N – is a composition of a number of professional and celebrity musicians who come together to provide an incredible music experience no matter what the venue. Craig & Still Rock'N were recently featured in a Contra Costa Times article.
I got to video the event and am now working on increasing my proficiency with video editing software which will come in handy when creating videos to help market our clients homes for sale in the Danville, Dublin and San Ramon areas.
The gig at the Crow Canyon Country Club was a knockout success, the response even surprised the organizing staff at the club. Normally the carvery night dinners attract less than 100 attendees, but last Friday saw a packed house as members and non-members enjoyed a buffet dinner, dancing and live music.
Besides Craig & Tracey, I saw at least 3 other Realtors in attendance and a couple of other mortgage brokers / loan officers besides Dennis Viers who plays bass guitar with Still Rock'N..
The event also turned into a mini family gathering for me as I brought my son in from Chicago to help with photography and my older sister and her husband drove over from Sausilito to wine, dine and dance.
We also had several of our past clients attend. When people relocate to the area, Craig and Tracey always take them to the Crow Canyon Country Club to introduce them to the facility, the staff and some members to help them get a feel for the community and begin making friends in the area.
Saturday morning Craig was back into real estate mode – rocking and rolling – with two sets of buyers looking for homes in the San Ramon area.

Home Buyers – You can get more specific details on homes in your price range by emailing Craig and requesting a Real Estate Pricing Specific Trend Report – be sure to specify a zip code and price range.
San Ramon Home Sellers – You can request a Real Estate Pricing Specific Trend Report for your home. Email Craig with your neighborhood and pricing info.
We're sorry, but there's nothing to display here; MLS data service is not activated for this account.