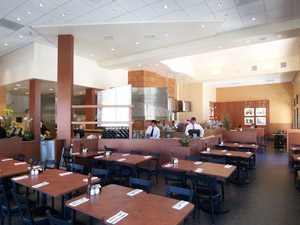 Every Monday the Harper-Mees Team gathers over at the Mees' home in Danville for a team meeting. These meetings usually last a couple of hours, but today's went four!
After 2.5 hours, everyone was hungry, so we jumped in the car and drove over to Amicis in the brand new Rose Garden commercial center at the corner of Sycamore Valley Road and Camino Ramon in Danville, CA.
It was a gorgeous sunny day, so we sat outside and continued our team meeting during lunch. We split the large antipasta salad, a veggie pizza, and a margherita pizza – we were hungry real estate agents!
The Danville location of Amicis is so new that it is not listed as a location yet on the company's website, but we all agreed the food was great and this location should soon be a popular dining spot. The Iron Horse Trail runs right behind the restaurant, so you can easily bike there.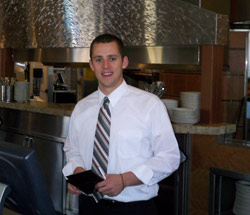 Our waiter was Shaun Williams, who took very good care of us. Coincidentally, Shaun's parents are Cindy and Gene Williams, real estate agents with Keller Williams TriValley Realty in Pleasanton, CA.
Paul and I walked around The Rose Garden to see who has leased property so far. We saw signs for:
Robert Scott Face/Body
Amaranta Cocina Mexicana
Navlet's has been in this location for years, but has a new look. The rest of these are new tenants and of all of them only O'My Sole has posted the new location on their website properly. (Being the Internet marketing guy for the team, this boggles my mind!)
Sycamore and Camino Ramon is going to be a busy corner when The Rose Garden is in full bloom. This is the best thing that could have happened for the Best Western Sycamore Inn. They will have an assortment of fine dining right across the street for their guests.