Danville California Small Businesses Optimistic about 2009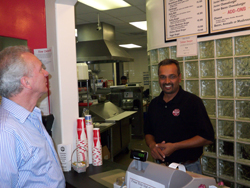 Danville Livery & Mercantile business owners still enjoying good business despite tough economic times.
I was at the 202 Grill (formerly Bergies)yesterday chatting with new owner Vinay Patel who left his well paying job at IBM and purchased this popular Danville burger joint on March 23. My obvious question – why would you buy a business in this recession?
Vinay told me he's the type of person that always sees the glass half full. He's always wanted to open a restaurant and thought this would be a great time to enter the business. Vinay will be adding Indian food including chicken, lamb, and shrimp Tikka Wraps to the menu. Some vegetarian dishes with rice for lunch and dinner platters will also be cooming.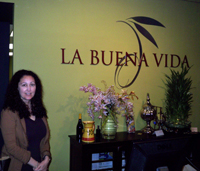 Business at the 202 Grill was brisk yesterday. 202 Grill is located at 202 Sycamore Valley Rd W, Danville, CA 94526.
After lunch, Craig and I walked over to say hello to Suzette Cabatu, owner of La Buena Vida. This is "the store" if you are looking for a gift basket. We use La Buena Vida for business and personal needs. Suzette and her staff have done wonderful baskets for our clients and affiliates.
Suzette opened La Buena Vida a little over a year ago, just as the economy really started to sink. Suzette told me that business was not holding steady – it is actually inching up! We can understand why – you get a great product with friendly service at a price that leaves you completely satisfied.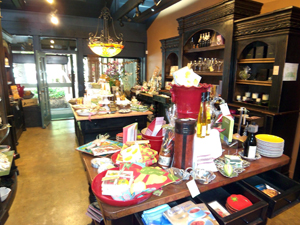 With all the "Going Out of Business" signs we see around the Tri-Valley area, it's nice to get a couple of positive reports from small business owners.
Which brings to mind the Cheesecake Factory in Walnut Creek which opened in mid-February. You would never know there is a recession happening if you go to the Cheesecake Factory. It's usually a 45 to 90 minute wait to get a table during lunch and dinner hours.
The popularity of the Cheesecake Factory has helped business at the Buckhorn Grill, just down the street. Hungry people, who can't wait, walk down to the Buckhorn Grill for salads and tri-tip.
Our FREE In-Depth Real Estate Market Reports updated weekly, break data down by zip code and price point.
Contact Craig for more info on local real estate 925-984-4910