Staging a Home for Sale? Use some original art.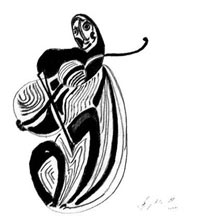 Over the past few years as the housing market has had its ups and downs (mainly down, down, down) one of the affiliate industries that took quite a hit was home staging. I was talking to home staging specialist, Cathy Lee of CL Design Services, about the attrition rate among home staging consultants during this period. Locally, it seems that over 40% of the home staging businesses that were in business in 2005 are now out of business. 
Wikipedia – Home staging is the act of preparing a private residence for sale in the real estate marketplace. The goal of staging is to make a home appealing to the highest number of potential buyers, thereby selling a property more swiftly and for more money. Staging techniques focus on improving a property's appeal by transforming it into a welcoming, attractive product that anyone might want.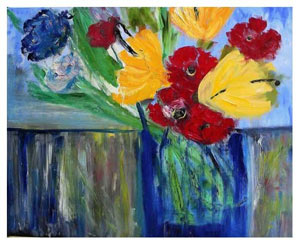 Even through the hard times, we still encouraged home sellers to use a professional home staging consultant. Staging a home for sell is one of the top 3 items that needs to be addressed when selling a home. If the home isn't stage in a way that is not only eye-appealing, but also lets the prospective buyers imagine themselves in the home, it's going to make the home selling process more challenging.
Tracey Harper (The Harper Team) has training in design and she has an expert eye and sense for staging a home to sell. Even so, we usually encourage clients to work with home staging experts because it takes time and attention to detail that we need to invest elsewhere in the sales process. If you haven't sold a home recently – it's much more involved than 8 to 10 years ago.
The Use of Art in Home Staging
One of our clients is an artist. Home staging consultants have been using some of her art in homes for sale in San Ramon, Danville and Dublin CA. Art can add sophistication to any room, helping to draw attention to specific areas. The effective use of art in home staging is as important as lighting and decluttering.
Top 10 Home Staging Details
Declutter
Effective Furniture Groupings
Room Transformations
Lighting
Make it Spacious
Neutral & Appealing
Color
Wall Hangings (ART!)
Decorative Accents (ART!)
Mood
Home Staging can help homes sell faster for top dollar. It makes sense to seek home staging advice when selling your home.
Contact Tracey or CL Design Services for questions on home staging.
Current Homes for Sale
FREE In-Depth Real Estate Market Reports for San Ramon, CA. These are the best source of data you can get for your local market.
Email Craig if you would like to know more about buying or selling a home or condo in San Ramon call (925) 984-4910
Search for Foreclosures I-680 Corridor
We're sorry, but there's nothing to display here; MLS data service is not activated for this account.