Danville, Dublin & San Ramon Real Estate
Expected to be Red Hot this Summer

Homebuyer competition will be keen this summer in East Bay communities like Danville, San Ramon and Dublin CA. With homes for sale inventory continuing to be in tight supply, expect the bidding wars to heat up – fill up the pool, you may need a dip and a cool drink to survive!
Though the economy is still sluggish, the demand for housing is increasing as homebuyers frustrated with missing out or sitting on the fence are becoming a little more "realistically" aggressive with their home purchase offers.
In reviewing MLS stats for Alamo, Danville, Dublin, San Ramon and Walnut Creek, we see a consistent trend of Days on Market dropping. With the exception of a few homes being on the market for over 100 days, the vast majority are in contract in less than 2 weeks.
Homesellers cannot ignore market value, nor should they minimize the affect of the conservative appraisal process, but even so, this summer seems ripe for pricing toward the high end of the market range and letting the competition work for you. Note: Though a homebuyer may bid more than asking price, the appraisal may come in lower – and buyers need to be prepared to come up with some cash if they really want the home.
The bidding wars are back… nation's major housing markets have gone from stagnant to sizzling…
 The competition has been most intense in California, where 9 out of 10 homes sold in San Francisco drew competing bids.
There's good news for Danville and San Ramon area home owners, housing prices are expected to rise at least 3.3% annually through 2017. In hot markets like San Ramon, Dublin and Danville, we expect the local rebound to more than double the national average.
David Stiff, chief economist at Fiserv, says, "Although some recent real estate activity has been speculative, it seems as if buyers have more realistic expectations about housing market returns after having lived through the largest housing market crash in U.S. history. 2012 was the first year since 1997 that the housing market has resembled something recognizable as normal. For the past 15 years, home price changes and sales volumes have either been boosted by a bubble mentality or crushed by crash psychology."
Last year saw both home prices and sales volume increase dramatically, and inventory levels are now a challenge for interested buyers. Sellers have been reticent to list their homes for sale, with many waiting for home prices to regain pre-recession footing. But with home prices finally headed in the right direction once again, more sellers are expected to get back in the game. At the end of the 2012 third quarter, prices increased in about 62% of U.S. metros compared to 12.5% during the same period one year ago.
CNBC:
Beyond the Numbers, Confidence Returns to Housing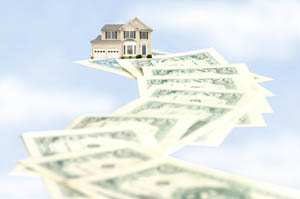 "First-time homebuyers are the wildcard in the upcoming spring-summer home buying season," said Thomas Popik, research director for Campbell Surveys. "We see strong first-time homebuyer traffic, but it's still not clear that the traffic will translate into increased purchases, because first-time homebuyers are dependent on low down payment financing, such as FHA mortgages."
Headwind to Housing Recovery? Foreclosures Flare-Up Again
Banks are repossessing fewer homes, in fact the fewest since March of 2007, but in some states that may be about to change, according to a new report from RealtyTrac, an online foreclosure data and sale firm.
Bank repossessions, the final stage of the foreclosure process are down 29 percent from a year ago, but foreclosure starts, which are the first stage of the process, jumped 10 percent in February from the previous month. This after falling for three consecutive months.
"At a high level the U.S. foreclosure inferno has been effectively contained and should be reduced to a slow burn in the next two years," said Daren Blomquist, vice president at RealtyTrac. "But dangerous foreclosure flare-ups are still popping up in states where foreclosures have been delayed by a lengthy court process or by new legislation making it more difficult to foreclose outside of the court system. Foreclosure starts have been steadily building in those states over the last several months and likely will end up as bank repossessions or short sales later this year."
No Money? No Worries. Home Lenders Ease Up Rules
As housing heads into the critical spring market, credit is finally beginning to thaw. Lenders are increasingly approving low down payment loans, and government sponsored mortgage giant Fannie Mae is buying more of them.
It is a noticeable shift from the last four years, when 20 percent down on a home purchase loan was the only game in the neighborhood.
Email Craig if you would like to know more about buying or selling a home or condo in Danville, Dublin or San Ramon call (925) 984-4910
We're sorry, but there's nothing to display here; MLS data service is not activated for this account.