Is it time to buy a home in Danville, Dublin, San Ramon… East Bay? YES!
Thinking about buying a home in Danville, Dublin, San Ramon or the Bay Area? It's time to quit thinking and take action – get out the check book, contact a Realtor, get pre-qualified and start looking at homes. Think not? Don't agree? Sometimes a picture is worth a thousand words…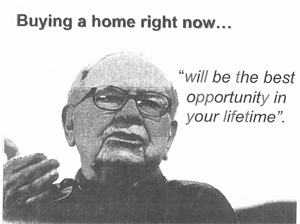 Why would anyone listen to this guy?
Warren Buffett is an American business magnate, investor, and philanthropist. He is widely regarded as one of the most successful investors in the world. Often introduced as "legendary investor, Warren Buffett", he is the primary shareholder, chairman and CEO of Berkshire Hathaway. He is consistently ranked among the world's wealthiest people. He was ranked as the world's wealthiest person in 2008 and is the third wealthiest person in the world as of 2011. In 2012, American magazine Time named Buffett one of the most influential people in the world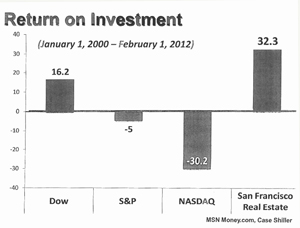 Why buy a home, shouldn't I invest in the stock market?
Warren Buffett says along with equities, single-family homes are a very attractive investment right now.
Appearing live on CNBC's Squawk Box, Buffett tells Becky Quick he'd buy up "a couple hundred thousand" single family homes if it were practical to do so.
If held for a long period of time and purchased at low rates, Buffett says houses are even better than stocks.  He advises buyers to take out a 30-year mortgage and refinance if rates go down.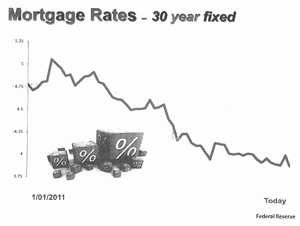 What about those interest rates? Why buy now?

Over time, the number of housing units necessarily matches the number of households (after allowing for a normal level of vacancies). For a period of years prior to 2008, however, America added more housing units than households. Inevitably, we ended up with far too many units and the bubble popped with a violence that shook the entire economy.
That created still another problem for housing: Early in a recession, household formations slow, and in 2009 the decrease was dramatic.
At our current annual pace of 600,000 housing starts – considerably less than the number of new households being formed – buyers and renters are sopping up what's left of the old oversupply …
While this healing takes place, however, … housing-related companies sputter … This hugely important sector of the economy, which includes not only construction but everything that feeds off of it, remains in a depression of its own. I believe this is the major reason a recovery in employment has so severely lagged the steady and substantial comeback we have seen in almost all other sectors of our economy …
F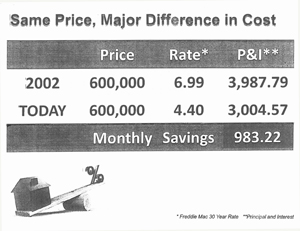 ortunately, demographics and our market system will restore the needed balance – probably before long. When that day comes, we will again build one million or more residential units annually.
I believe pundits will be surprised at how far unemployment drops once that happens. They will then reawake to what has been true since 1776: America's best days lie ahead. – Buffett wrote in his annual letter to Berkshire Hathaway shareholders.
What would you save in interest rates?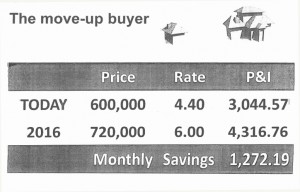 The time to get serious about buying a home is now, market conditions could not be any more favorable. In real estate markets like San Ramon & Dublin CA where inventory of homes for sale are low, low, low – the competition for homebuyers is heating up.
Move-up buyers should give serious consideration to taking the plunge now while interest rates for home mortgages are still low. What will happen after the election? Anyone's guess, but between now and the election you can bet on one thing – nothing is going to be done to threaten the existing rates available for buying a home in Danville, Dublin, San Ramon or the East Bay.
Current Homes for Sale in San Ramon CA
Buying or selling a home in Danville, Dublin or San Ramon?
Danville, Dublin, San Ramon Home Buyers – You can get more specific details on homes in your price range by emailing Craig and requesting a Real Estate Pricing Specific Trend Report – be sure to specify a zip code and price range.
Home Sellers – You can request a Real Estate Pricing Specific Trend Report for your home. Email Craig with your neighborhood and pricing info.
We're sorry, but there's nothing to display here; MLS data service is not activated for this account.