Maps for the City of San Ramon CA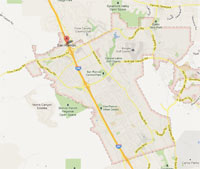 In this day of GPS, iPhones, iPads and other ubiquitous technology, it's hard to believe that anyone may still need a map of San Ramon CA.
Below are lists of maps and guides for San Ramon and the surrounding Bay Area that may be useful for those relocating to the area. If you are looking for a map or resource that is not listed, feel free to contact the Harper Team for assistance.
Here are some links for San Ramon CA Maps:
Printed Maps & Guides for The San Ramon CA Area
Map of Homes Currently for Sale in San Ramon CA
Buying or selling a home in San Ramon?
San Ramon Home Buyers – You can get more specific details on homes in your price range by emailing Craig and requesting a Real Estate Pricing Specific Trend Report – be sure to specify a zip code and price range.
Home Sellers – You can request a Real Estate Pricing Specific Trend Report for your home. Email Craig with your neighborhood and pricing info.
We're sorry, but there's nothing to display here; MLS data service is not activated for this account.