Buy Now or Pay the Price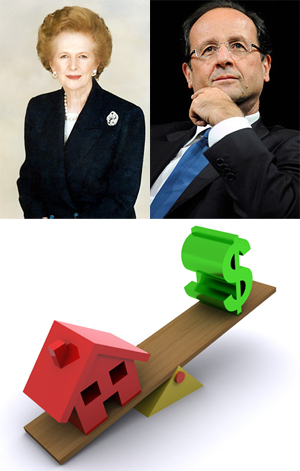 Is it time to buy a home in San Ramon, California? The real estate market is heating up in San Ramon – does that mean you should buy a home now?
If the changing dynamics in the San Ramon real estate market aren't enough to increase your motivation to buy now and you won't take real estate advice from Warren Buffet, then here is something else to consider – the 2012 election and the economy in 2013.
A couple of weeks ago, I was watching the Iron Lady about the political life of Margaret Thatcher and lately, I've been reading some of the news about French president-elect Francois Hollande.Both of these world leaders political careers revolve around economic cycles and the consequences of favoring good times over bad or as some might say – society's struggle with wanting their cake and eating it too.
So, tying this all to buying a home in San Ramon, CA.
The U.S. and California economies continue to struggle. The forecasts by economic pundits is for continued sluggish improvement, but Something's Gotta Give… inflation? higher interest rates? more austere times? more government spending? – Who knows, but the 2013 administration is going to do something. How it will affect each of us and buying a home are something we will have to wait to see.
What we know now about the San Ramon real estate market and the current state of affairs for home sellers and homebuyers is that "…while analysts debate when the market will hit bottom, for a surprising number of cities the turnaround has already begun." – Money Magazine, April 2012.
Here's a line out of that Money article that reflects a truism in real estate – "The strategies you employ to sell your home must change to reflect the realities of what's now a healing market." Dealing with the reality of the market is critical in any market for homesellers. Real estate economic pundits see home prices inching up 2% in 2013 and 3% in 2014, but then again, what about the impact of the election and how will the changes in the European Union affect the global economy?
What we know is that right now interest mortgage rates remain at insanely low levels. My younger sister just refinanced her home from a 30-year 6.25 rate to a 15-year 3.0 rate. Her house payment went up about $40 a month. She wants to pay it off in 10 years and retire.
Here's another goody from the Money article for homebuyers: " For years buyers were scared to death of overpaying for a home. They're less so now, but they've grown accustomed to thinking that they'll score deals, so they tend to act slowly, and typically start bidding around 10% top 15% below list price." Ain't it true – and buyer frustration is rising faster than a Greek's intolerance of wage cuts.
San Ramon's economy is on an upswing. This is good news for home values and home sellers. It could be bad news for homebuyers still tied to that "past mindset" mentioned above. The time to buy a home in San Ramon, CA (if that is where you want to live) is now – while prices remain in flux, rates remain low, and the politicians are too busy with the election to rock the boat.
Map of Homes for Sale in San Ramon, Danville, Dublin
Buying or selling a home in San Ramon?
San Ramon Home Buyers – You can get more specific details on homes in your price range by emailing Craig and requesting a Real Estate Pricing Specific Trend Report – be sure to specify a zip code and price range.
Home Sellers – You can request a Real Estate Pricing Specific Trend Report for your home. Email Craig with your neighborhood and pricing info.
We're sorry, but there's nothing to display here; MLS data service is not activated for this account.