East Bay Real Estate
The Months of Inventory for Dec.3rd is almost the same as thirty days ago Nov. 3rd, up just over 1%.
Pending sales are up substantially because of all of the lower priced homes that are mostly short sales or foreclosed properties. Comparing Dec. to Nov. active listings are down 7% and pending sales back thirty days are down 8%.
Available inventory is stable and is historically on the low side because of the large number of pending sales. Average prices are down, but the lower prices are not all depreciation. The larger percentage of lower priced homes selling and the shortage of financing for higher priced homes have played a big part in the lowering of average and median prices.
The data in this chart was pulled several days before the data on Danville & Pleasanton following it. Pending sales for the chart are based on 30-day average.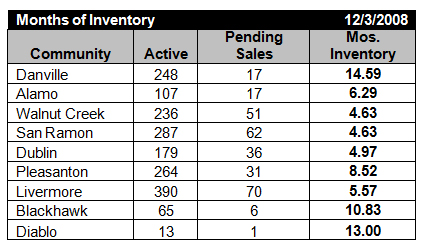 Danville California Real Estate
November median home price = $790,000 (detached homes)
19 detached home sales ($669K to $1.3 million)
Average days on market = 56
28 detached homes pending sale (this week) ($465K to $1.9 million)
Median condo/townhome price = $529K
8 attached units sold ($425K to $620K)
11 attached homes pending sale (this week) ($345K to $719K)
248 total properties on the market in Danville

187 detached homes
56 condos/townhomes
Pleasanton California Real Estate
November median home price = $685K
25 detached home sales ($455K to $2.2 million)
Average days on market = 44
50 detached homes pending sale (this week) ($475K to $3.9 million)
Median condo/townhome price = $456K
9 attached units sold ($340K to $510)
21 attached homes pending sale (this week) ($265K to $569K)
262 properties on the market in Pleasanton

216 detached homes
46 condos/townhomes