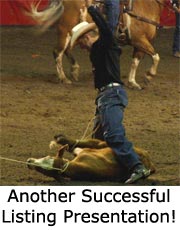 Don't be taken to the local rodeo by your real estate agent. No one likes to find themselves tied into a contract that they can't get out of when the other party isn't living up to promises made.
In a slow market it's more than the average DOM (Days on Market) for homes that increases. Another real estate trend you find in a slow market is real estate agents pushing for longer contract times to get your house sold.
It makes logical sense – it's taking longer to sell a house, we need a longer commitment to market it properly and get you the best price. At the listing presentation, agents parade out their marketing plans, many toot their own horns, the best actually focus on you, the local market trends and are not afraid of talking the reality of "market price."
Here's the reality of the curent local real estate market covering San Ramon, Danville, Pleasanton, and Dublin, CA. There is a two to three month inventory of homes on the market in each of these commnuities. Inventory is building faster than closed transactions, so DOM is increasing.
You can't sell a house for what you think it's worth unless you find a buyer that agrees with you. Many real estate agents will price a house at whatever price point the seller is fixated on to get the listing. Then they play the waiting game for the pressure and anxiety to mount. All the while, they thank their lucky stars for that 6 month contract they roped the seller into.
The six month contact helps to protect them against the seller's frustrations and reactivity. The agent knows the house is over priced – if they don't then the seller has even bigger problems.
Now you sellers probably think I am exaggerating and, of course, real estate agents will say it is only a few that do this. I see it everyday. I think a conservative estimate would be at least 70% of real estate agents work this way.
Why is that? Well in this real estate market according to MLS stats more than 80% of your local real estate agents sell less than two houses a year. How much experience does two transactions a year provide a person? Enough to trust them with the sale of one of your major assets?
We've sold over $225 million of real estate. That's over 300 closed escrows. Yes, we still list houses where the seller influences the price BUT – We give the seller our honest opinion of what we feel the house needs to be priced at given current market conditions (we track the local markets closely) AND – We offer a Client Satisfaction Guarantee that insures that NO Client of Ours will EVER wind up Hog-tied!