Crow Canyon Country Club Homes Danville, California
$350,000 to $1,100,000
Crow Canyon Country Club is a gated community built around a private golf course off Crow Canyon Road. The Crow Canyon Country Club community consists of 903 homes and townhomes in Danville, CA 94526. The homes are situated within a wonderful golf course and country club setting with acres of open space and greenbelts. There are many wonderful views of the Las Trampas Range and Mt. Diablo.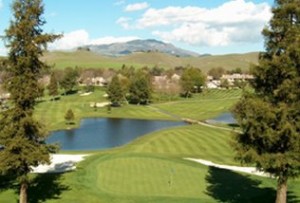 Crow Canyon Country Club homes are 15-20 years old. Built by Broadmoor Homes between 1976 – 198H.
Fairway Villas (townhomes) are located on the golf course – 2 to 3 bedroom homes – 1,364 s/f to 1,608 s/f.
Garden Manor Homes (detached) – 3 to 4 bedroom homes – 1650 s/f to 2,137 s/f.
Country Estate homes (detached) – 3 to 4 bedroom homes on full size lots – 1,865 s/f to 2,880 s/f.
Also built by Broadmoor Homes between 1977 – 1980, Crow Canyon Estates are larger single family homes, ranging from 1800 to 3200 sq ft, on 8000 to 10,000 sq ft lots. The Estates are located both inside the gated country club area, with a section of homes adjacent to El Capitan Drive.
Crow Canyon Country Club HOA
Homeowners Amenities include Golf Course, Greenbelt, Pool, Security Gate and Tennis Courts. Crow Canyon Estates HomeOwners Association
Crow Canyon Country Club
The Crow Canyon Country Club is a family oriented Club with activities scheduled for the entire family. Amenities include:
18-hole golf course
13 lighted tennis courts
Junior Olympic size swimming pool heated year-round
State-of-the-art fitness center
Aerobics center
Fine dining
Casual dining bar & grill
Child care center
Homeowners also enjoy the use of this private neighborhood's six community pools. See specs on Crow Canyon Country Club golf course.
Crow Canyon C. C.
School Info
Recent MLS Activity
Crow Canyon Homes for Sale Danville CA
2 Active Listings (Homes for Sale in Crow Canyon Country Club & Crow Canyon Estates)

1 Detached Homes
1Townhome

5 Homes show sale pending
2 Home shows sold in the last month
The price on the homes listed in Crow Canyon range in price from $525,000 to $755,000.
The best sources of data you can get for the Danville housing market, community and school information.
Email Craig if you would like to know more about buying or selling a home or condo in Danville, California or call (925) 984-4910
We're sorry, but there's nothing to display here; MLS data service is not activated for this account.