When We Sell Your Home in Alamo, Danville, Dublin, Pleasanton, San Ramon or Walnut Creek, California – You get more than just a sign in the yard!
Seller Guarantee –
If at any time you are not satisfied with the job we are doing for you, you may cancel our agreement, no questions asked.
Why choose the Harper Team to help you sell your home?
The whole team involves themselves in the successful sale of YOUR home
Each member of the team brings a unique set of skills to YOUR unique situation
Properly pricing your home is perhaps the most crucial factor in making a sale. There is no substitute for experience, honesty and integrity in helping the seller to see the "market value" of their home and assisting them in getting top dollar for their home
Professional experience in staging homes for sale
Our database contains over 13,000 contacts
We run multiple ad campaigns weekly to attract qualified buyers
We have closed escrow on over 400 homes
Negotiate the best deal for you.
Over 94% of today's homebuyers begin
their search for a home on the Internet
The Harper Team has a full-time Internet marketing specialist who works full time to ensure that your home is all over the Internet.
The Harper Team understands and implements technology in a way that is unparalleled in the industry.  They consistently pioneer new ways of dominating the California real estate scene, most notably with their Internet presence. – Lani Rosales – AgentGenius.com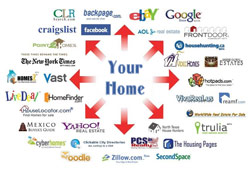 I've always been impressed with The Harper Team's fluency in the art of online marketing. Their blog is a shining example of how they are not only in tune with their clients' needs and interests, but a testimony of their cutting edge approach to marketing. – Jim Cronin – The Real Estate Tomato
Within 48 hours I'll have your home all over the Internet. Our Internet marketing is second to none and we can prove it! Listen to what our satisfied clients have to say.
What's Your Home Worth? Click here to find out
Articles of Interest for Sellers:
Our FREE Real Estate Market Snapshots
are the best sources of data you can get for your local market.
Email Craig if you would like to know more about selling a home or condo (925) 984-4910